NEWS
VIDEO
16 December 2021
Eight minutes of fluid thinking from Derek Ellard — our new video
SEPTEMBER 2021
September 2021
After many months of development Go Sail Cargo is pleased to announce no less than four new models – 2 new schooners, one with a maximum capacity of 36 TEUs, a new single container sloop and a new ship's boat, a whaler for the 21st century. While the hull lines, sailplans and general arrangement details are decided, work on the drawings and detailed specifications is still ongoing. Meanwhile here are some outline specs and some of my scale sketches.
The Clipper 180-24 and Clipper 180-36
Acting on the advice and informed feedback from shipping expert Sven De Wachter, both ships feature increased cargo capacity yet still share many details such as sailplans. Building on the earlier C160, the new steel-hulled gaff-rigged schooners now have cargo capacities of up to 36 TEUs.
The C180-24 will take 24 TEUs plus 120 pallets, 1260 cubic metres, up to 650 tonnes. The 180-24 will be available as a cargo only version or with reduced pallet capacity, 12 passengers in well-appointed cabin suites.
The C180-36 will take 36 TEUs, 1,400 cubic metres, up to 850 tonnes. This ship has a beamier hull and larger electric engines. Accommodation for 12 passengers is standard. Crew levels are the same for both versions at a minimum of 6 with berths for 12.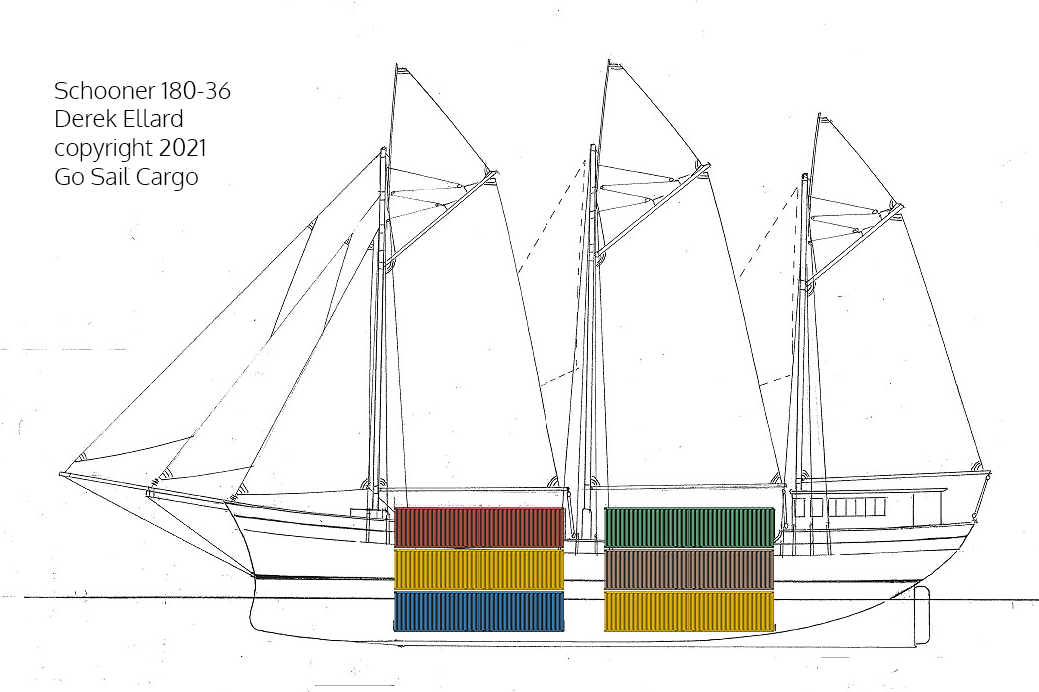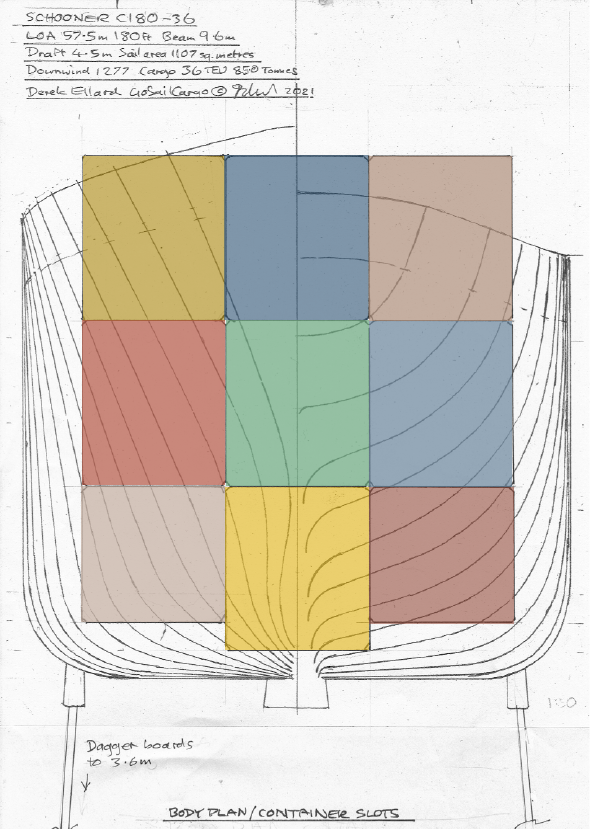 The Secret Trader 40
This boat was designed to dovetail in between the Secret 33 and the Clipper 74 and will carry a single container or 34 cubic metres. A maximum load of 12 tonnes for coastal or river operations. The rig is a loose footed gaff yawl with a lowering mast and a crew of 2.
The Stornaway 24
Designed with several functions this boat will be produced in new-generation fibreglass with two hull options, the fantail or transom, both from the same moulds.
— Ship's boat for the schooner and new square riggers with a lugsail sloop rig and the potential to be a designated lifeboat, capacity 12. Transom stern model. Outdoor education and adventure use.
— All electric fantail launch with a solar array on a fixed canopy roof, capacity 12. Tourism or private use.
— Gaff cutter, fantail stern, tourism under sail or 4 berth cutter.
CLIPPER 64 BECOMES CLIPPER 74
February 2021
After extensive design work, the Clipper 64 has evolved and is now the Clipper 74.
Renderings of the new hull will be available on the website shortly.
THREE NEW MODELS
October 2020
The all new Clipper 160
The Clipper is a 50-metre 3-masted gaff schooner with a capacity of 16 TEUS.
Built in steel and aluminium, the new schooner follows the same principles established by the Clipper 100 and the Clipper 64. The new ship has a crew of 10 plus 12 passengers, a sail area of 814 square metres and twin electric auxiliary motors.
All major concept and design work is complete. Details soon.
The all new E-Cat 50
This vessel is a 15-metre sailing cargo catamaran or solar-electric tourist or ferry boat.
The hulls are specially developed low-drag fibreglass modules with custom aluminium decks and superstructure. The vessel has a cargo capacity of 15 pallets plus 8 passengers or 80 plus passengers as a ferry. The new cat has a solar input of 13kW and is a zero emission, zero pollution boat, designed to be entirely self-sufficient, low maintenance and able to be beached with front end loading.
Designed with inter-island Pacific trade in mind, the new cat will be available as a kit shipped out in prefabricated components for local assembly. Drawings and full specifications available soon.
The Clipper 100 MKIII
This boat has been developed and enlarged after extensive consultation. The boat is an evolution of the original with an increase of cargo capacity to 4 X standard TEUS plus 24 pallets or 100 pallets. There is increased accommodation, a lightering pontoon, increased deck space and a safer, more efficient cargo handling system. Link: Clipper 100.
For more information contact Derek Ellard derek@scruffie.com
"When the wind of change blows, some build walls, others build windmills."
— Chinese proverb
"We build sailing ships."
— Go Sail Cargo